Date:
March 20th - 22nd 2017
Time:
Registration starts at 2:00 pm
Location:
The Lodge at Sequoyah State Park along the shores of Fort Gibson Lake
19808 Park 10
Hulbert, OK 74441
Please click here for the Registration Form
Mail registration forms with entry to:
OK State Office
Att: CE Board
P.O. Box 7527
Moore, OK 73153
A $20.00 per person deposit will secure a space
Registration begins on Monday, March 20th, at 2:00 PM, and the retreat will end on Wednesday morning, March 22nd, 2017. Includes your registration, lodging for two nights, and five meals (Monday and Tuesday dinner, Tuesday and Wednesday breakfast, and Tuesday lunch.) Rooms are not available on Monday before 2:00 PM, so if you arrive early, please be patient with us as we wait for the rooms to become available.

Senior Adult Retreat Schedule (Coming Soon)
$140 per person (with a roommate)
$190 per person (staying alone)
$250 per couple (sharing a room)
More info on the lodge click here:
The Lodge
at Sequoyah State Park
• The game room is open for fellowship and games (except during worship and prayer time).
• Ice for drinks and coffee will be furnished when the game room is open. (Please no outside food is allowed in the game room area)
• A special offering will be received on Tuesday evening and will be equally divided between Randall University and Oklahoma TSP Missions.
• Representatives from the State Office, Randall University, and State Missions will be speaking to the group.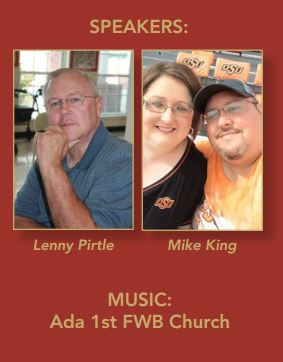 Morning Devotions/Prayer Time: Danny Phillips